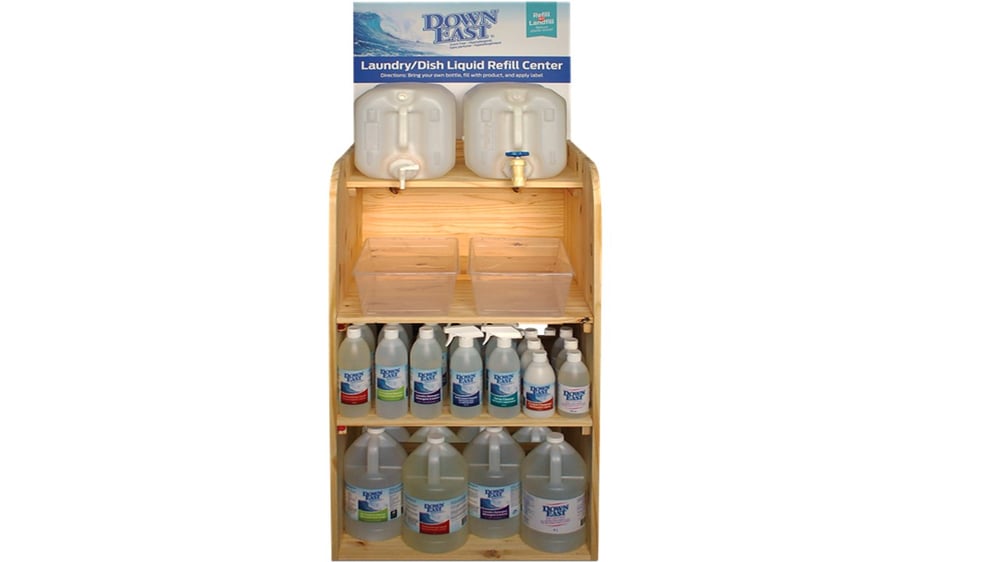 Refill Program
---
Say hello to reduce, reuse, recycle's newest teammate: refill.

Consumers who care about plastic waste in landfills and the ocean are demanding no-packaging or refillable packaging when they shop.

We want to make it easy for you to refill your containers, that's why we introduced the Down East Cleaning Product refill stations.

Are you ready to join the refill revolution?

If you're a customer… Just bring your own Down East container to the refill station and fill them up! You'll save money, and reduce plastic waste with each refill. If you don't see a DOWN EAST refill station in your favourite store, ask them to contact us.

If you're a store… We'll provide you with a free rack and display signage. You can look forward to building repeat business with waste-conscious consumers. Contact us today and we'll get you set up!

Our Refill Programs do reduce plastic waste…DOWN EAST and its parent company Bebbington Industries, have been safely reusing single-use plastic containers for over 25 years. During this time we have substituted over 12,000 - 20 L single-use plastic containers with previously used containers and reused over 50,000 - 4 L single-use bottles. This has prevented over 20 tons of HDPE plastic (approximately 10 large truckloads) from being sent to local landfills, or for recycling. As a result of our container reuse programs, we were presented with an award for Pollution Prevention by the CCME (Canadian Council of Ministers of the Environment)

Pick up DOWN EAST at your local store and discover the kinder, gentler way to clean. .

OUR REFILL LOCATIONS
Atlantic Canada
NOVA SCOTIA
- ACAP Cape Breton, Sydney
- Brooke Village Grocery, Whycocomagh
- DTC Natural Foods, Barrington Street
- Earltown General Store, Tatamagouch
- EOS Natural Foods, Wolfville
- Family Natural Foods, Greenwood
- Grainey Food Co-op, Halifax
- Lunenburg Hardware, Lunenburg
- Luminate Co Wellness Market, Bedford
- Mere Health Food, New Minas
- Organic Earth Market, Halifax
-Redmond's Hardware, Upper Tantallon
-The Red Onion Market, Annapolis Royal
-The Tare Shop, Halifax
- Uprooted Market & Café, Musquodoboit


NEW BRUNSWICK
- Aura Whole Foods, Fredericton
- Mother Nature Market, Woodstock
- Sequoia Whole Foods, Moncton
- The Apple Tree Market, Gagetown
PEI
- Riverview Country Market, Charlottetown